Download now: MyRLA app for advice, technical support & more!
Support at your fingertips: For technical advice and product knowledge in the palm of your hand, download the MyRLA app. Available on IOS and Android. Easy contact with your RLA Rep, TDS, SDS, competitions, prizes and more!
Note: Your details are kept strictly confidential as per our Company Privacy Policy.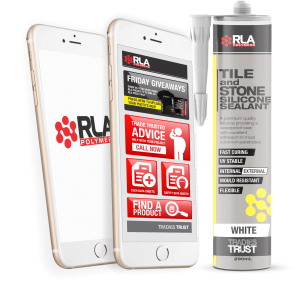 What Are Volatile Organic Compounds (VOCs)? "Volatile organic compounds (VOCs) are potentially dangerous gasses that are easily emitted at room…
Efflorescence - Causes & How to avoid it! As manufactures of quality cement based tile adhesives and grouts, every…
RLA Multipurpose Epoxy The perfect solution for commercial hard to bond to surfaces. Multipurpose epoxy is market leading epoxy technology,…
About RLA
Leading the way in Australian manufacturing
RLA Polymers provide Australian manufactured products, for the Australian construction, building and trade industries. We provide tailor made solutions to get your project complete efficiently and on time.
RLA manufacture Australia wide, with plants in Melbourne, Sydney, Queensland and Western Australia.
With heavy investment in research and development, RLA provide the Australian marketplace with leading technology, not limited to, but including:
Cementitious / Water Based / Polyurethane / Solvent / Hot melt / MS / Hybrid / Epoxy / Organic and Inorganic technologies.